Category Archives: Seamless Flooring of NJ, NY and NYC
The NJ, NY and NYC authority in seamless flooring systems, including epoxy flooring, resinous floors, designer epoxy, decorative concrete, polished concrete, acid stain and architectural concrete floors
Most people in NY, NYC and NJ do not know about basement seamless flooring solutions. After Hurricane Irene, we had an enormous amount of calls from victims of flooding. Unfortunately, many people had ruined carpets, warped wood floors and even buckled tiles, along with mold and mildew. These flooring systems are inadequate for a basement. This could have all been avoided if the correct waterproof basement polymer floor was installed. Luckily, we have many resinous flooring solutions.
One such basement flooring solution we have had great success with is our grind, hone, stain and seal. This seamless flooring solution consists of a 4 stage diamond grinding and honing process, then applying an optional acetone based UV stable concrete dye and finally sealing the concrete with a special breathable epoxy sealer. This special epoxy is not only anti-mold and anti-microbial but will also hold back and control the humidity emitting through your below grade slab. Say goodbye to your humid and muggy basement! Another quality of this seamless concrete floor is a light reflecting, clean and beautiful floor. Lastly, no worries about ever having to replace your floor, even if it floods again.
Here is an example of our basement grind, hone and seal system;
Hey guys, just wanted to share a recent project we just finished. As you can see from the pics below, it was concrete floor surgery..or actually reconstructive surgery.
In this project we found 4 layers of failed underlayments, installed previously by tile and carpet contractors. Insufficient prep and poor installation,combined with a moisture issue made all the substrates installed fail. some areas where 2 to 4 inched thick that where hollowed out. One area had no reinforcement nor was it attached to the original slab in any way, just poured over dirt without even a vapor barrier, hence the moisture issues.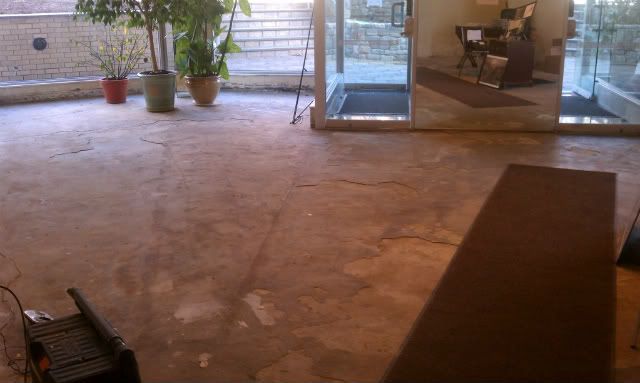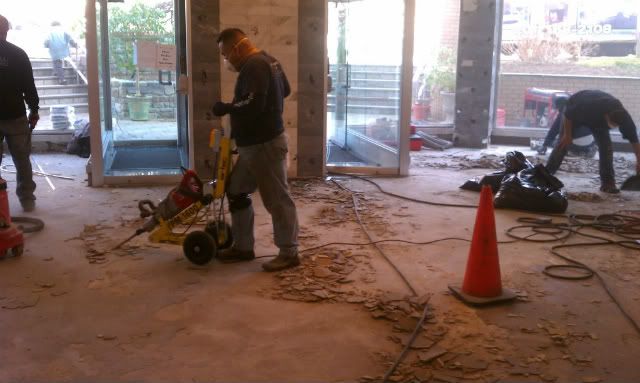 Here we are pouring a Duraflex Polycrete a self leveling urethane concrete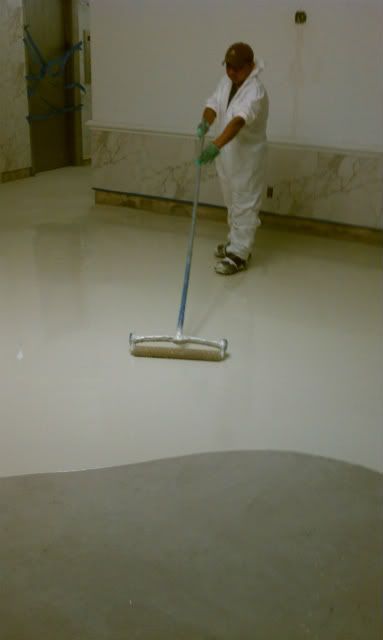 Now we begin to apply Skimstone a decorative microtopping
We create our design and continue with our microtopping
And this is our finished floor, with an epoxy and high traffic polyurethane
Typically, we here at Garage and Beyond do not like to "toot" our own horn, as most see through our constant Tweeting and Facebooking….but here in this case we had a manufacturer Duraamen and Concrete Ideas mention us on in their blogs regarding a recent project, Wine Chateau Metuchen NJ.
In this project, the client started out with 1/3 of the slab being old and deteriorated and the rest being a very new, smooth and hard troweled concrete finish but very dark gray. The client wanted a warm look to his new store, so we suggested to resurface with a pigmented sprayable microtopping. The hand drawn vines that color shift from bronze to patina epoxy was an afterthought that was supposed to only cover the entrance. The owner loved it so much he asked us to continue throughout the 7000 sqft store. He gave us an extra day, yes, we hand drew and painted vines in one day on 5500 sqft of floor space! I still don't know how we did it but my knees hate me for it.
To see more pics of this project, visit our online gallery here
For more info on this project, visit the Duraamen Blog here or visit Concrete Ideas Blog here
Hopefully I can explain the difference without overwhelming you with too much industry jargon and technical speak.
Let's start with a picture that I will say more than anything I could type out:
On the left is the do-it-yourself. On the right, a poured professional grade epoxy flooring treatment.